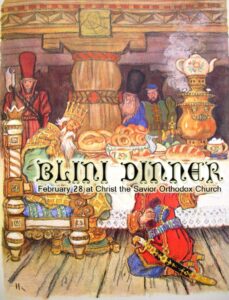 Winter got you down? RSVP today to join us for a delicious Russian dinner and a great movie on Feburary 28th at Christ the Savior Orthodox Church!
We kick things off at 6:30PM with a buffet of Russian food in the spirit of Cheesefare Week. Pirogi–of course blini–and other Russian, Ukranian, and Belarusian favorites will be served buffet style.
Full menu to be announced soon!
The cost is $20 per adult and $10 per child (with child-sized portions). All proceeds will benefit the sisterhood and benevolent fund of Christ the Savior Orthodox Church.
While soft drinks will be provided to all attendees free of charge, adult attendees will also be served one complimentary alcoholic drink with their meal, if they so desire. Additional alcoholic beverages including beer, wine, and vodka will be available for free with the purchase of a $5 raffle ticket.
To keep things interesting, we will be screening the 55 minute Russian documentary called Forpost (The Outpost) in Russian with English subtitles.
This movie is a touching and, at times, challenging documentary about Orthodox monks and nuns in a rural part of Ukraine joyfully serving orphans and others in need. It is a very moving film (and a shorter one than last year's Pop (The Priest)).
A separate movie will be shown for children in our Sunday School room.
As in the past, the seating is limited (let's call it "intimate"), so we can have up to 60 attendees. We ask people to RSVP prior to attending, and cannot accommodate walk-on attendees on the day of the event.
Use the form below to RSVP for this event today before the
seats fill up!
We hope to see you soon!
---
[easy_contact_forms fid=8]
---
Attachments: