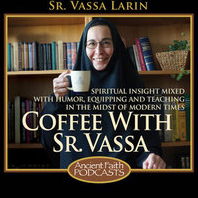 Dear Brothers and Sisters,
We are happy to announce that Sister Vassa (Larin), the host of the internet sensation "Coffee with Sister Vassa" will be making viagra comprar sin receta a presentation at Christ the Savior Church on December 30th at 7:00pm.  Though it goes without saying, coffee will be served during Sister Vassa's presentation.  This will be a tremendously enjoyable and informative evening for the whole family.  Please mark your calendars and plan to attend!
For more on "Coffee with Sister Vassa", have a look at her website here.  You can also listen to her podcasts on Ancient Faith Radio at this link.