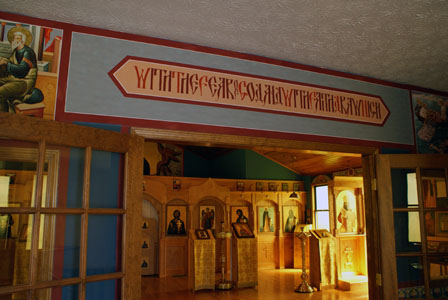 Dear Fathers, Brothers and Sisters and Christ,
By the mercy of God, 2012 marks the 10th year since the founding of Christ the Savior Orthodox Church in Wayne, WV and we are seeking to honor this anniversary with a festive celebration on Dec. 2nd at Christ the Savior Church.  In connection with this historic anniversary, we are working very hard to transform the interior of our church into a beautifully frescoed space where our parishioners and guests will be able to truly "lay aside all earthly cares" during the Divine Services.  Though some of the work has already begun, essentially none of it has been paid for and we are humbly asking your support to help us transfigure our church in time for the feast.
We are working with Damascene Gallery (Fr Jonah's company) to layout and install the frescoes and other items and the work done so far has made quite an impact.  We ask for your assistance in making history at Christ sintomasdelsida.org the Savior Church by marking this important anniversary in a way that gives glory to God and encouragement to the faithful.  One important note: ALL WHO DONATE TO THIS PROJECT WILL BE PERPETUALLY COMMEMORATED DURING THE PROSKOMEDIA BEFORE ALL DIVINE LITURGIES AT CHRIST THE SAVIOR CHURCH.  Thus, we ask that you please forward this page to those in your contacts who might be able to help as well.
Please contact us as soon as possible so that final ordering and installation can be completed in time for our 10th Anniversary celebration.
May God bless this endeavor to the glory of His Holy Name!
With love in Christ God,
Fr Jonah and the Parish Council of Christ the Savior Orthodox Church
Instructions: Please look at the list below and contact us using the form below to pledge an icon.  Each icon listed will be installed as an archival quality canvas fresco icon (large format) unless stated otherwise.  The price of each icon includes professional installation in the church by Damascene Gallery.  Other items related to the beautification are also listed below, so be sure to have a look at those as well.  Thank you for your support and may God bless you!!!!  
Periodic updates of this list will be sent out and a master list will be maintained on this page.
---
[easy_contact_forms fid=6]
---
Please send in your pledge to:
Christ the Savior Orthodox Church
Re: Icon Appeal
PO Box 188
Wayne, WV 25570
Make checks payable to: Christ the Savior Orthodox Church
Fresco Icons
Icons of the Holy Trinity, Christ and the Mother of God
The Holy Trinity,  $125 donation – PLEDGED
Christ the Bridegroom,  $125 donation (behind the Table of Oblation) – PLEDGED
Mother of God ("Of the Sign") – Platytera,  $400 donation (very large icon behind the altar) – PLEDGED
Angels
Archangel Gabriel,  $100 donation – PLEDGED
Archangel Michael,  $100 donation – PLEDGED
Icons of the Saints
St Alexis the Man of God,  $50 donation – PLEDGED
St Barbara,  $50 donation – PLEDGED
St Basil the Great,  $50 donation – PLEDGED
St Benjamin of Petrograd,  $50 donation
St Catherine the Great Martyr,  $50 donation – PLEDGED
St Demetrius the Great Martyr,  $50 donation – PLEDGED
St Elizabeth the New Martyr,  $50 donation – PLEDGED
St Ephrem the Syrian,  $50 donation – PLEDGED
St George the Great Martyr,  $50 donation – PLEDGED
St Gregory the Dialogist,  $50 donation – PLEDGED
St Herman of Alaska,  $50 donation – PLEDGED
St Ignatius the God-bearer,  $50 donation
St Irina,  $50 donation – PLEDGED
St James the Brother of the Lord,  $50 donation – PLEDGED
St Job of Pochaev,  $50 donation – PLEDGED
St John Chrysostom,  $50 donation – PLEDGED
St John of Kronstadt,  $50 donation – PLEDGED
St Marina (Margaret),  $50 donation – PLEDGED
St Nicholas of Myra,  $50 donation – PLEDGED
St Nina, Enlightener of Georgia,  $50 donation – PLEDGED
St Panteleimon the Great Martyr,  $50 donation – PLEDGED
St Romanus the Melodist,  $50 donation – PLEDGED
St Sava the Sanctified,  $50 donation
St Seraphim of Sarov,  $50 donation – PLEDGED
St Sergius of Radonezh,  $50 donation – PLEDGED
St Tatiana,  $50 donation – PLEDGED
St Theodore the Studite,  $50 donation
St Tikhon of Moscow,  $50 donation
St Anthony the Great,  $75 donation – PLEDGED
St Ignaty (Brianchaninov) of the Caucuses, $75 donation
St Jonah of Hankow,  $75 donation – PLEDGED
St Nektarios of Aegina,  $75 donation – PLEDGED
St Peter of Krutitsa,  $75 donation
St Paul the Apostle, $75 donation
St Peter the Apostle, $75 donation – PLEDGED
St Theophan the Recluse,  $75 donation
St Vladmir of Kiev,  $75 donation – PLEDGED
St Xenia of St Petersburg,  $75 donation – PLEDGED
St Anastasia the Roman,  $100 donation – PLEDGED
St John of San Francisco,  $100 donation – PLEDGED
St Makary of Optina,  $100 donation
St Patrick,  Enlightener of Ireland,  $100 donation – PLEDGED
St Sophia and Daughters,  $125 donation – PLEDGED
Sts Joachim and Anna,  $125 donation – PLEDGED
Sts Zechariah and Elizabeth,  $125 donation
Sts Adrian and Natalie,  $125 donation
Sts Constantine and Helen,  $150 donation – PLEDGED
Sts Vladimir and Olga,  $150 donation – PLEDGED
Feastday Icons (very large)
Ascension,  $175 donation
Dormition,  $175 donation – PLEDGED
Entry of the Mother of God into the Temple,  $175 donation
Nativity,  $175 donation – PLEDGED
Theophany,  $175 donation
Transfiguration,  $175 donation
Annunciation 1: Arch. Gabriel blessing,  $225 donation (left side of altar)
Annunciation 2: The Mother of God,  $225 donation (right side of altar)
The Resurrection,  $800 donation (extremely large icon adorning the back *Western* wall of the Nave)
Biblical Scenes
Christ on the Sea of Tiberias,  $100 donation
"The Supper at Emmaus" (Road to Emmaus), $100 donation
The Myrrhbearing Women,  $450 donation (very large icon) – PLEDGED
Other Fresco Depictions
Lettering over doors entering into the church: "With the fear of God and with faith draw nigh", $200 donation
18″ Panel Icons for Church (unless otherwise noted)
Special Note: Any panel icon you wish to sponsor can be provided.  Simply email the saint you would like to sponsor an 18″ panel icon of and we will acquire it for the feastday
Prayer of Christ in the Garden of Gethsemane with Metal Banding, $150 donation (for area next to the Table of Oblation) – PLEDGED
The Icon "Not Made by Hands" to be Placed over porch (outdoors), $250 donation (very large icon) – PLEDGED
Full Standing Icon of Christ, $75 donation
Full Standing Icon of the Theotokos, $75 donation
The Mother of God "Umilenie", "Tender Mercy",  $75 donation
St Alexander of the Unsleeping Order, $75 donation – PLEDGED
All Saints of Scotland, $75 donation
St Andrew, the First-Called, $75 donation – PLEDGED
St Anthony the Great,  $75 donation – PLEDGED
St John of Novgorod, $75 donation – PLEDGED
St John of San Francisco, $75 – PLEDGED
St Joseph the All-Comely, $75 donation – PLEDGED
New Martyrs of Russia, $75 donation – PLEDGED
The Optina Elders, $125 donation (large icon to be enshrined)
Apostle Philip, $75 donation – PLEDGED
Protection of the Mother of God, $75 donation – PLEDGED
St Rebecca – PLEDGED
Resurrection Icon, $75 donation
Royal Martyrs of Russia,  $75 donation – PLEDGED
St Sergius of Radonezh,  $75 donation – PLEDGED
St Silouan the Athonite, $75 donation – PLEDGED
The Synaxis of the Holy Apostles, $75
The Triumph of Orthodoxy, $75 – PLEDGED
St Victor, the Martyr, $75 donation – PLEDGED
Sts Zenophont and Maria, $75 donation – PLEDGED
Other Beautification Items for the 10th Anniversary
(Note: Partial donations are gladly accepted for these and other items) 
Beautiful Golgotha Cross with Stand, $750 donation – PLEDGED
Shrine for Hand Painted Icon of St John of San Francisco, $1200 donation ($1130 remaining to pledge)
Large Reliquary to Hold Newly Acquired Relics, $800 donation – PLEDGED
Crown Molding Icon Shelves Around Perimeter of Church, $500 donation
Runner Carpet from Entry Doors to Altar, $600 donation
Panikhida Table, $600 donation