"EUROPEAN, MUSCOVITE AND SON OF THE CHURCH"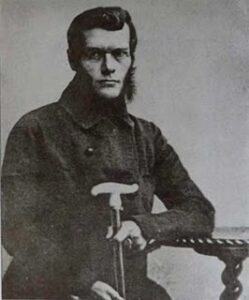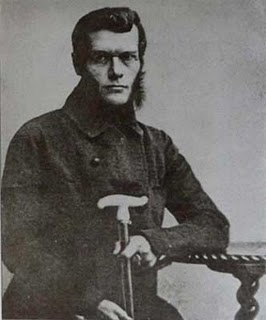 Ivan Vasilievich Kireyevsky was born on March 22/April 3, 1806 to Vasily Ivanovich Kireyevsky and Avdotia Petrovna in Dolbino, twenty-four miles West of Optina Monastery.
    Vasily Ivanovich, born in 1773, was a "peculiar man"1 and categorized by Ivan Kontzevitch as "highly original" noting that: "he was an Anglophone; he studied chemistry and medicine and he purchased the writings of Voltaire in order to burn them. He loved to read while lying on the ground and cared little for his appearance."2
    Vasily owned the village of Dolbino and lived there. It had been in his family for five generations and it is assumed that it was a gift for some notable service of his grandfather's to the Tsar during the Time of Troubles four generations earlier. The home was surrounded by "splendid gardens" and a chemistry laboratory was built which was a nice "compliment" to his English garden.3 He had a rich library with books in Russian, German, French, English and Italian. For a time he was elected judge in the district of Dolbino. Added to his study of chemistry was that of medicine and he had a "considerable, if informal, practice." At one point, he designed an elaborate project for the Emperor on the control of an epidemic disease with attention towards the peasantry.4
    In 1805, Vasily married Avdotia Petrovna Yuskova and they had four children: Ivan, Peter, Maria and Daria, who died in early childhood. Avdotia was born of nobility and into a cultured and well-educated family. She loved flowers, poetry and art and also painted well. She was the niece of the famous poet Zhukovsky whom she helped with translations.5
    In 1812, Vasily travelled to Orel province, where he owned houses, and converted two of them into hospitals for the wounded as well as for refugee families that were fleeing from skirmishes on the Smolensk highway. He personally visited and took care of the sick. At this time he contracted typhoid fever and reposed on November 1, 1812 on the feast of the Holy and Unmercenary physicians Cosmas and Damian.
    In 1817, while still living at the homestead in Dolbino, Avdotia married Aleksei Andreevich Elagin and they had four children together. Ivan's new stepfather offered a formidable education to his children. In reading Ivan's sister Maria's diary we get a glimpse of their curriculum. She notes:
[French]: translate Socrates, grammar and read Voltaire's tragedy. [German]: grammar, read 1 volume of the History of the Netherlands, translate Undine. [English]: read Lalla Rookh. [Russian]: translate Fenelon's Educ. Des Fillis [sic], learn 100 pp. of poetry, 3pp. a day. Read 5 volumes of Karamzin thoroughly and 4 volumes of Sismondi. In addition to other pieces, learn Rite's concerto by heart.

[French] Once a week on Monday translate 6pp. from 11 to 1. [German] 3 times a week, Tuesday, Thursday, Saturday. Translate 10 pp. each time and read 25, morning until 1. [English]: once, Monday evening. Russian twice a week: Wednesday and Friday, 15 pp. a time; 9pp. of poetry each time. 3 times a week read Karamzin from 5 to 7 after dinner. Twice a week Sismondi from 9 to 11.6
    One of Ivan's primary English biogapher's says of Ivan and his brother Peter: "No wonder both Kireevsky brothers were among the best educated of their time."7
    In 1822, the whole family moved to Moscow to further the education of the children. Here Ivan would advance his studies in English as well as in Latin and Greek. While in Moscow, Ivan became involved in two societies – one was called the "Raich Circle" and the other the "Society for the Lovers of Wisdom." The former was a group based around the well-known scholar, S.E. Raich, who translated Virgil and whose meetings were often frequented by prominent literary or governmental figures. The bulk of the conversation and focus was on translations. As Gleason notes, Raich himself recalled that, "we read and discussed, according to the reigning law of aesthetics, the works of the members and translations from Greek, Latin, Persian, Arabic, English, Italian, German, and occasionally French."8 Another member of the group, the historian Mikhail Pogodin, noted: "We intend, incidentally, to translate all the Greek and Latin classics and to translate the best books on education from every language."9
    The "Society for the Lovers of Wisdom" was a more secretive organization with different aims. Koshelev, a close friend of Ivan who was also in this group, wrote that in this society, "German philosophy was master… that is
Kant, Fichte, Schelling, Oken and Görres." The goal was always "principles on which human knowledge could be founded."10 When one walked into the meeting room, folio and quarto volumes could be seen covering the walls, they lay heaped on chairs and overflowed into all corners of the room. A skeleton hung near the door; on its skull was written: Sapere aude ("dare to know").11
    After becoming more politically directed and as discussion grew towards affecting a change within society the Lovers of Wisdom were faced with the consequences of the Decembrist Uprising of 1825. Believing that their group may be perceived as conspiratorial and related to the insurgents of uprising, they were called together by their president. Upon gathering together they collected the statutes and protocols of the Society and committed them to the flames and the group was dissolved in order not to be suspected of any revolutionary intentions.12
Beginning in the mid-twenties the large Elagin-Kireyevsky home became known as the "Elagin Salon" most notably because Avdotia Petrovna loved to entertain.13 The patrons of the Salon became more numerous and the Salon atmosphere more central to the intellectual life throughout the 30's. Gleason notes that journals became fewer as editors became nervous. The Salon made it possible to talk openly about controversial subjects, and was safer than putting words in print.
Avdotia Petrovna's entertaining had always featured an intellectual cast, but as the thirties waned, this became increasingly pronounced… Almost all the intellectual luminaries of the period paid glowing tribute to Avdotia Petrovna's warmth, charm, and hospitality. "From the thirties right up until the new reign," Kavelin remembered, "Avdotia Petrovna's house and salon were among the most favored and frequented gathering places of Russian literary and scholarly people. All of intelligent, enlightened, and talented Moscow gathered there on Sundays. Any celebrity, Russian or foreign, would appear at the Elagin Salon upon his arrival in Moscow." T.N. Granovsky wrote to A.E. Kromida in 1840: "What more can I tell you about my life in Moscow? Every Wednesday I go to the Kireevskys', a house where I enjoy myself a great deal. Monsieur Kireevsky is a most distinguished man in every way. The company is not numerous, about thirty at most, but they are the most cultivated and interesting people in Moscow. Each time something new is read…." P.I. Bartenev, editor of Russkii arkhiv (and subsequently publisher of War and Peace), spoke of the catalytic effect that Avdotia Petrovna had on any literary or intellectual gathering, with her "unfeigned sympathy toward people who are talented and alive, toward every noble undertaking." Here, in Iazykov's "Republic of Liberty at the Red Gates" (the poet was once crowned with flowers by his angelic hostess), in Kireevsky's new house and elsewhere  the  regime  of  symposia,  readings,  theatrical performances, arguments, and concerts continued undiminished, if not unchanged.14
    In 1828, Ivan wrote his first work which received great renown. It was entitled, "A Note about the Character of Pushkin's Poetry," and was published in the Moscow Messenger. The following year he published an article for The Morning Star under the title, "A Review of Russian Literature for 1829." In this same year he proposed marriage to Natalia Petrovna Arbenina but was refused. He then left Moscow to study in Germany. During this period in Russia's history many of the youth were venturing to Berlin to listen to the lectures of G.W.F. Hegel and, to a lesser degree, to Munich to Friedrich W.J. Schelling. While in Germany, not only did Ivan attend the lectures of Hegel but was invited to his home. In his Collected Works, we find that Ivan wrote home about this event.
    On March 14/26, Kireevsky wrote his last Berlin letter to his parents.
     "After midnight," it begins, "Just back from Hegel's, and I hasten to write you, to share with you my impression of today – although I don't know how to express this mood, never experienced before, which has so strongly mastered my thoughts, almost as if by magic. I have been surrounded by the first-class minds of Europe!" He had, he said, debated with himself for some time as to whether he should pay a call on Hegel. But in spite of dire premonitions of a chilly and awkward five-minute visit, he had finally pulled himself together and written the great man an "extremely polite note," which "cost me much, since it had been so long since I had written to anyone in German." … To his relief, Hegel replied the same day in a "very cordial and worldly, French way," inviting him to his house on the following evening. The occasion was a success, conversation being, as Kireevsky put it, "interesting, deep, but very free notwithstanding." Hegel involuntarily "turned every subject of conversation toward the universal; everything suggested the whole system of the newest thought, Hegelian thought.15
    The following evening, Ivan was invited to spend more time with Hegel and a few close friends.
     At the end of March, Ivan set off for Munich where he would stay until Fall. Here he sat in on Schelling's lectures and as in Berlin, so here; he was invited by Schelling to his home several times. In Ivan's Collected Works we find a letter written to his parents about Schelling wherein he says: "Schelling's system has so ripened in his head since the time that he stopped publishing, that like ripe fruit, it has simply dropped off the branch on which it formed, and lies in a heap, like glossy apples, between History and Religion."16
    In 1831, Ivan was back in the familiar surroundings of Moscow. He approached the Moscow Censorship Committee asking permission to begin a journal called the European. The following month he received an affirmative reply and the first issue came out early in the following year. He dreamt to "make of my study a lecture hall of the European university, and my journal, like the notes of an industrious student, would be useful to those who themselves do not have the time or means to take lessons at first hand."17 Being suspected by the Censorship Committee of revolutionary propaganda the European did not continue past two issues and Ivan secluded himself in Dolbino. He withdrew from Russian intellectual life entirely and devoted himself more to agriculture.18
    In 1834, Ivan proposed marriage to Natalia Petrovna for a second time and was accepted. The wedding took place on April 29. It is said of Natalia that she was beautiful, witty, very pious and was never one to lose sight of her own interests or those of her immediate family. (She could also charm the birds from the trees when she so desired.)19 Ivan's marriage and life with Natalia, was described by his life-long friend Koshelev in an article called, "The Story of the Conversion of Ivan Kireevsky," which appeared in 1842.20 It entails not only the couples' life together but specifically how they related and got along in matters of "faith" and how Ivan would later come into the Church. It says:
I.V. Kireevsky was married in 1834 to a girl, Nat. Petr. Arbeneva, who had been brought up according to the dictates of strict Christian piety. In this period immediately following the marriage, her performance of the rites and customs of our church struck him unpleasantly, but with his customary patience and delicacy, he in no way hindered her in this observance. She, on her part, was even more sorrowful to observe his absence of belief and complete neglect of all the customs of the Orthodox Church. There were conversations between them which ended in an agreement that he would not hinder her in the fulfillment of her obligations. He was to be free in his own actions, but promised her not to scoff at sacred things and even to put a complete stop to those conversations of his friends which were so unpleasant for her. In the second year of their marriage, he asked his wife to read [Victor] Cousin. She did this eagerly, but when he began to ask her opinion about this book, she said that there was much in it that was good, but she found nothing new, for all of it was set forth in a much deeper and more satisfying way in the writings of the Church Fathers. He smiled and was silent. He began to ask his wife to read Voltaire with him. She declared to him that she was ready to read any serious book which he recommended to her, but that raillery or any kind of scoffing at the sacred was alien to her, and she could neither listen to nor read such things. Sometime after that they began to read Schelling together, and when his great, luminous thoughts were at an end, and I.V. Kireevsky turned to his wife, expecting her to be surprised, she answered him forthwith that these thoughts were known to her from the writings of the Church Fathers. More than once she pointed things out in the works of the Church Fathers which sometimes compelled I.V. to read whole pages. It was unpleasant for him to have to admit that really a great deal of what had so enraptured him in Schelling was in the Church Fathers. He would surreptitiously take his wife's books and read them with enthusiasm, although he did not like to admit to having done so. Acquaintance with the Novospassky monk, Filaret, conversations with the holy elder (starets), and the reading of various works of the Church Fathers delighted him and drew him to the side of piety. Ivan Kireevsky had never worn a cross. His wife had asked him about this more than once, but I.V. would fall silent. At length, however, he said to her that he would wear a cross if it were sent to him by Fr. Filaret, whose intelligence and piety he already prized highly. Nat. Petr. went to Fr. Filaret and communicated this to him. The elder, crossing himself, took off his own cross and gave it to Nat. Petr., saying "May it work to his salvation." When Natal'ia Petrovna came home, I.V. met her and asked: "Well, what did Father Filaret say?" She took out the cross and gave it to I.V., who asked her: "What sort of a cross is this?" Nat. Petr. said that Fr. Filret had taken it from his own person and said "Let it work to his salvation." I.V. fell on his knees and said "Well now I hope for the salvation of my soul, for it must be that if Father Filaret has taken off his own cross and sent it to me, God has clearly called me to salvation." From this moment, a decisive change in I.V.'s thoughts and feelings was perceptible. After the death of Father Filaret, I.V., living near the Optina Monastery, was increasingly strengthened in his piety by conversations with Fathers Leonid and Makary and other elders. He read a great deal of patristic literature, talked frequently with the elders, and strengthened himself more and more for his future activity.22
    Kireyevsky's secular biographer, Abbott Gleason, makes mention of the above but pays little attention to it. He says, perhaps surprisingly, "…there is nothing unexpected in [Ivan] taking refuge from the buffeting which the 'world' had just administered [the suppression of his first journal European] in a new and close relationship with the Orthodox Church."23 But actually,  this is not the case. Through the person of Father Philaret, and then Elder Makary, Ivan found the fulfillment of Schelling's philosophy, a foundation for true philosophizing and an understanding of the means to make it flourish.
    As Gleason notes, Schelling's philosophy had been a part of Kireyevsky's life through his uncle Vasily Andreevich Zhukovsky and his stepfather, Aleksei Andreevich Elagin.24 Schelling was also on the docket for the Lover's of Wisdom where "German philosophy was master." Later, while studying in Germany, he would talk personally with Schelling as well as attend his lectures. Ivan, in later years, explains why he was a follower of Schelling instead of Hegel. Masaryk also sees his influence in Ivan's work, A Review of Russian Literature for 1829.25As Gleason rightly notes of Schelling's philosophy:
The starting point for Schelling's later philosophy was his growing conviction that "reality" could not be grasped by the purely intellectual – or "rational" – processes of traditional metaphysics… What disturbed Schelling was basically the all-encompassing and increasing grandiose subjectivism which had characterized German philosophy since Kant. It had reached its culmination, Schelling felt, in Hegel's ontology, and almost all of Schelling's later philosophy was, in one aspect, a polemic with Hegel. To express Schelling's viewpoint in the simplest possible way, he came to deny the notion that one can in any sense "know" reality by knowing one's mind.26
    Beginning with Schelling and disagreeing with Hegel's proofs of the inability of man to know the reality around him, Ivan develops a foundation that allows for all of man's faculties to be involved in the process of knowing. Lanz notes that "Kireyevsky finds Schelling's late realism sufficient to crush Hegel, but utterly incapable of reaching the ideal of true knowledge."27 "He later confessed to finding in the Greek Fathers all that was true and most important to him in Schelling's philosophy but developed more fully and stated more exactly," a point articulated to him by his wife also.28 Only later in life does Kireyevsky articulate this point more clearly saying, "It is not only the abstract logical faculty that is the organ in 'knowing' reality but it is also 'the voice of enraptured feeling,' the 'aesthetical sense,' the 'love in his heart.' All of these faculties in man contribute to what he knows and one cannot be isolated from the other."29
    In the second half of the Conversion we find that Ivan has an encounter with the famous monk of the Novospasskii Monastery Fr. Filaret.30 Little is known about Fr. Filaret but what is known reveals that he was part of the monastic revival that grew out of the work of St. Paisius Velichkovsky.  Fr. Filaret and Elder Makary, whom Ivan would go to following Fr. Filaret's repose, were both under the same spiritual father at the Ploshchansk(y) Hermitage – Fr. Afanasii [alternately spelled Athanasius] (Zakharov).31 Fr. Afanasii was a disciple of [St.] Paisius Velichkovsky who is responsible for the rebirth of monasticism in Russia through the translation of the Philokalia and other foundational spiritual texts.32 Fr. Afanasii brought these works with him to the Ploshchank's Hermitage where Fr. Filaret and Elder Makary also received them and brought these with them.
    About Fr. Filaret's character we find that he had attained by his struggles a high degree of sobriety, meekness, and humility:
The number of persons who were longing for his comforting words and spiritual advice was so enormous that he had no time to rest during the day even for a moment, not even to take his modest meals. He suffered from a severe disease of the bowels, and his ailing body needed rest that it did not get. He was able to read the thoughts of men and to answer not their words but the hidden movements of their mind and heart. He went daily to Liturgy, and then began the daily reception of crowds that lasted till evening.33
    It is with Fr. Filaret that Ivan first read the works of St. Isaac the Syrian and St. Maximus the Confessor but only later, with Elder Makary, would he really engage with these works.34
    The author of Ivan's Conversion says, "From this moment, a decisive change in I.V.'s thoughts and feelings was perceptible." Henry Lanz notes that, "it was not merely with crosses and blessings that Father Philaret influenced our philosopher. Kireyevsky frequently visited the monastery, and for hours conversed with the learned monk. Together they studied the Greek Fathers. These visits began soon after Kireyevsky's marriage."35 According to Masaryk's reading of Koselev, Ivan's conversion is two years after being married, 1836.36
    From this evidence we can see that Ivan was not merely finding "shelter" in the Orthodox Church. Rather, Schelling became a doorway to Orthodoxy, and a clearly articulated Orthodoxy, through the person of Fr. Filaret. This was at a time when the works of the Fathers were being translated and passed on. In this milieu, Ivan meets a cleric (Fr. Filaret) who was involved in this process and he learned from him and was lead to the Christian life. Therefore, we need not understand the "conversion" of Ivan Kireyevsky as a retreat into a "safe harbour" away from intellectual and philosophical integrity. Quite the opposite since it furthered the philosophy he had already embraced up to that time by finding that the Church Fathers were "much deeper and more satisfying."
To Be Continued…
Subdeacon Matthew
ENDNOTES
1"peculiar to the point of strangeness," noted Kavelin whose parents knew Vasily personally. See Abbott Gleason, European and Muscovite: Ivan Kireevsky and the Origins of Slavophilism (Cambridge: Harvard University Press, 1972), 8.
2 "The Life of Elder Macarius' Disciple, Ivan V. Kireyevsky," in Elder Macarius of Optina. (Platina: St. Herman of Alaska Brotherhood, 1995), 293.
3 European and Muscovite, 9.
4 Ibid.
5 The Life of Elder Macarius' Disciple, 293.
6 European and Muscovite, 24.
7 Ibid.
8 Ibid., 37.
9 Ibid.
10 Ibid.
11 Ibid.
12 Ibid., 40.
13 Ibid., 154.
14 Ibid., 154-155.
15 Ibid., 82-83.
16 Ibid, 87.
17 From Kireyevsky's Collected Works as noted by Gleason, ibid., 97.
18 Ibid., 137.
19 Ibid., 138.
20 Henry Lanz, "The Philosophy of Ivan Kireyevsky" in The Slavonic Review (vol. 4, no. 12, 1926): 595.
21 Met. Philaret reposed in 1867 but Ivan was in contact with Elder Makary beginning in 1846 when he wrote him his first letter as noted by I.M. Kontzevitch in Rev. Fr. Alexey Young's A Man is His Faith; Ivan Kireyevsky and Orthodox Christianity (St. George Information Services: Norwich, 1980), 16.
22 European and Muscovite, 139-141.
23 Ibid., 142.
24 His stepfather translated Schelling's Philosophical Letters on Dogmatism and Criticism, ibid., 23.
25 Tomáš Garrigue Masaryk, The Spirit of Russia: Studies in History, Literature and Philosophy, 2 vols., Eden and Cedar Paul, trans. (London: Allen & Unwin, 1919), 239.
26 Ibid., 118.
27 "The Philosophy of Ivan Kireyevsky," 603.
28 Russian Philosophy, vol. 1, The Beginnings of Russia Philosophy, The Slavophiles, The Westernizers, James M. Edie, et al. eds. (Knoxville: The University of Tennessee Press, 1976), 166.
29 Ivan Kireyevsky, "On the Necessity and Possibility of New Principles in Philosophy" in Russian Philosophy, vol. 1, ed. by James M. Edie, et al. (The University of Tennessee Press: Knoxville, 1976), 198-199.
30 Georges Florovsky, Ways of Russian Theology: Part II. (Belmont: Buchervertriebsanstalt, 1987), 22.
31 Ibid., footnote 113. See also Fr. Leonid Kavelin, Elder Macarius of Optina (Platina: St. Herman of Alaska Brotherhood, 1995), 52. The Ploshchansky Hermitage is also where Elder Leonid came from before going to Optina Monastery, see also "Optina Elders: Instructor of Monks and Conversers with Angels," at http://www.roca.org/OA/97/97k.htm, accessed on January 25, 2013.
32 Nun Macrina, Good Books, Filthy Rags and the Optina Elders at http://www.saintseraphimbookstore.com/?page_id=4, accessed on January 25, 2013. See also Elder Macarius of Optina, 52.
33 Nicholas Arseniev, Holy Moscow. (London: The Society for the Promotion of Christian Knowledge, 1940), 148. Quoted in A Man is His Faith, 14.
34 Robert Bird, "General Introduction" to On Spiritual Unity: A Slavophile Reader. (Hudson: Lindisfarne Books, 1998), 19. Masaryl and Lazareva both date this at 1936; see The Spirit of Russia, 241 and Lazareva, "Zhizneopisanie" ["Biography"], introduction to I.V. Kireyevsky, Razum na puti k Istine [Reason on the Path to Truth].( Moscow: "Pravilo very," 2002), XXXVI.
35"The Philosophy of Ivan Kireyevsky," 595. See also Fr. Sergius Chetverikov, Elder Ambrose of Optina. (Platina: St. Herman of Alaska Brotherhood, 1997), 125.
36 The Spirit of Russia, 241.
Can Online doctors prescribe Adderall. cialis price malaysia Can I get antibiotics without seeing a doctor.