The Elders of Optina Monastery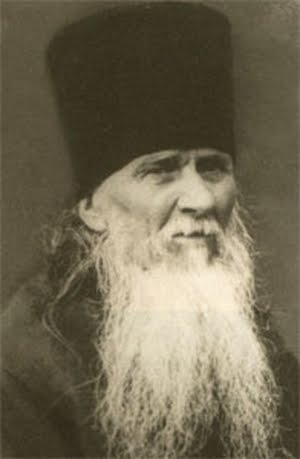 Elder Ambrose
(November 23, 1812 – October 10, 1891)
Commemorated on October 10
     Raised in Tambov province, Alexander Michailovich Grenkov was the sixth of eight children, born in 1812, the year that Napoleon retreated from Russia. He was raised in a very religious family and became a very lively, humorous and sociable young man. He enjoyed society and was captivated by songs and music. A year before finishing his seminary studies, Alexander fell ill and he and all around him thought that he was going to die. At this time he promised God that if he became well he would become a monk. He got better and in time, he went to ask advice from a local hermit, St. Hilarion of Tsroekurvo. The monk said, "Go to Optina… You are needed in Optina."
     On October 8, 1839, Alexander arrived at Optina Monastery. He immediately came under the care of Elder Leonid. Later he was given over to Elder Macarius.  When Elder Ambrose was later asked how this happened, he said: "It was like this: the Elder (Fr. Leonid) called Batiushka (Fr. Macarius) and said: 'Here comes a man to take shelter with us, but I'm already weak, so I'm giving him to you, from one field to another' – like they transferred horses."
     He became Elder Macarius' cell attendant. Under him Alexander was educated through his cell prayers, daily reading of the Scriptures, Lives of the Saints and the works of the Fathers. He found in Elder Macarius an experienced interpreter for every unclear word and expression. Later, he would be helping the Elder in publishing translations. In 1843 he was tonsured a does viagra make you last longer monk and given the name Ambrose after St. Ambrose of Milan. Two months later he was ordained a hierodeacon and two years later a hieromonk.
     In 1846, Fr. Ambrose became so sick that it was thought he would going to die. At this time he was given Unction and Communion of the Holy Mysteries of Christ and tonsured into the schema while retaining the name Ambrose. This serious illness lasted for more than a year. At this time he was thirty-six agoradesign.it years old. He was so sick that he was incapable of any monastery obedience and therefore excluded from the register of the brothers of Optina, leaving him to be fed and cared for by the monastery. He lay in bed for two years and wasn't able to go outside until 1848. After this illness he did not fully recover even up to his death in 1891. Elder Macarius also started to send monks and lay people to him, and soon, the nuns from the Borisov Convent. Elder Macarius, in preparing Fr. Ambrose to succeed him, said, "You will live in the cell on that side of the gate, and see to it – this is my commandment to you – do not let anyone who comes here leave without consolation." In time, more and more people came to Elder Ambrose as the other Elders reposed, all four of them! Soon, monastics and laypeople came from all over Russia to seek counsel from him. At times, he was so sick that he offered counsel while lying in bed.
     Due to the reforms of Catherine II, women could not become monastics without a dowry. Therefore many women were unable to do so. In 1891, Elder Ambrose founded Shamordino Convent, nine miles from Optina to remedy this situation. He filled it with poor and destitute women – widows, orphans, the blind, lame and sick – which numbered almost a thousand before his repose. In addition, the Elder also had built a psychiatric hospital, a school, a hospital and a hospice for aged women so that Shamordino truly became a city of Christian love where crowds of destitute and unfortunate people dwelt.
     The needs of the Convent obliged the elder to be there often and even to live there as he continued to become sicker. Not approving of the amount of time that Elder Ambrose was spending at Shamordino, the Bishop of Kaluga sent him a letter saying that he was going to come to Shamordino to force him back to Optina. The Bishop arrived but only in time to serve his funeral.  Elder Ambrose was buried beside the grave of Elder Macarius.
Sayings of Elder Ambrose of Optina
Doing good for One's Neighbor
The desire to labor for the good of mankind is very honorable if it is placed in the right perspective. The prophet-king David says that we should depart from evil and then do good (Ps. 33). Contemporary man does just the opposite. In theory, everybody wants to work for the good of their neighbor; however, they give very little concern for the fact that they should first cleanse themselves from evil and then care for their neighbor. The vast majority of the younger generation is very concerned that there should be great activity for the improvement of humanity. Unfortunately, this resembles someone who, although he never finished high school, allows himself to dream of becoming a professor and great instructor in a university. On the other hand, it is another extreme to conclude that striving for the betterment of man is pointless since it is impossible to push humanity forward. Every Christian is obliged to labor for the good of his neighbor according to his strength and social position. At the same time, this should be done properly and at the right time, as we mentioned above, so that our labors will be successful in God's eyes and according to His will.
– Subdeacon Matthew Long
Bibliography
Chetverikov, Fr. Sergius. Elder Ambrose of Optina (Platina: St. Herman of Alaska Brotherhood, 1997). [The author of this work personally knew Elder Ambrose]
"Concerning Progress" in Orthodox Life (November-December, 1992): 38-41.
Dunlop, John B. Staretz Amvrosy (London: Mowbrays, 1972).
Kontzevitch, I.M. "Optina Monastery and Its Era: Its Significance in the Spiritual and Cultural Life of Russia" in The Orthodox Word (July-August, 1984): 156-162.
Makarios, Hieromonk of Simonos Petra, The Synaxarion: The Lives of the Saints of the Orthodox Church, trans. Christopher Hookway, vol. 1 (Chalkidike: Holy Convent of the Annunciation of Our Lady Ormylia, 1998).
Optina's Elders: "Instructor of Monks and Conversers with Angels" at http://www.roca.org/OA/97/97k.htm accessed on Dec. 17, 2013.
Schaefer, Archimandrite George (trans.) Living Without Hypocrisy: Spiritual Counsels of the Holy Elders of Optina (Jordanville: Printshop of St. Job of Pochaev, 2009).
Keep this medicine where children cannot reach it. generic viagra A locked cupboard at least one-and-a-half metres above the ground is a good place to store medicines.