The Elders of Optina Monastery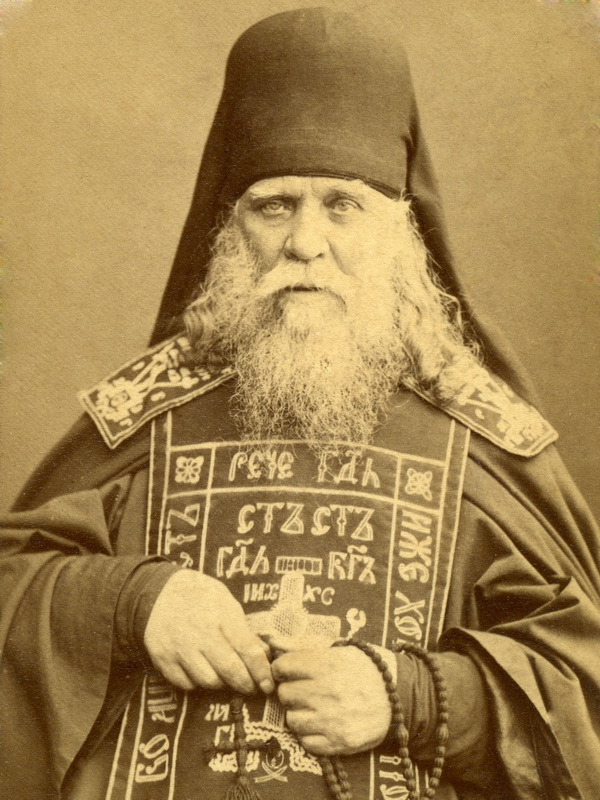 Elder Anatole (Zertsalov, the "Older")
(March 6, 1824 – January 25, 1894)
Commemorated on January 25
Piety and meekness characterized the family into which Alexis Moiseyevitch Zertsalov the future Elder Anatole was born. Alexis was the son of a deacon and he desired monasticism from a young age. He was generally of poor health, suffered from insomnia and headaches. He graduated from school and went on to work in government service. While there, he and two other workers were diagnosed with tuberculosis. The other two died and Alexis promised God that if he got better he would become a monk. He became well, resigned from his job, received his parents blessing and set off for Optina Monastery.
On his arrival, he was taken under the care of Elder Macarius, who also blessed him to seek counsel from the Elders Ambrose and Anthony. His life in the monastery was full of sorrows. In the beginning he worked in the kitchen where he got very little rest, sleeping only on a wood pile at that. Once he finally received a cell, he would continually be moved from one cell to another. He became accustomed to little sleep and suffered from terrible headaches.
When Elder Macarius reposed, Fr. Anatole became close to Elder Ambrose who saw his spiritual maturity and slowly began to send people to him for guidance. Elder Ambrose would often call him a great Elder and doer of the Jesus Prayer.
In 1870, Fr. Anatole was ordained a priest and later Fr. Ambrose had him appointed as Director of the Skete. His cell was to the left of the entrance gate and Elder Ambrose's to the right. All who visited Elder Ambrose felt it their duty to also visit Elder Anatole. While Elder Ambrose was founding the Shamordino Convent, Elder Anatoly was his right hand due to the former's sickness which bound him to bed frequently. Elder Ambrose would say to the nuns, "I rarely call you in to speak with you because I have no worries about you, knowing that you are with Fr. Anatole." For twenty-one years Elder Anatole served the Shamordino Convent. Elder Ambrose would say of Elder Anatole that he had been given a special gift for comforting the young. The Shamordino nuns would turn to Elder Ambrose as to an Elder and to Elder Anatole as to a father who always looked out for all their needs. He taught the sisters the order of the divine services, the Optina "Rule of Five Hundred" prayer rule and brought them a copy of the typicon. He exhorted them to ceaselessly say the Jesus Prayer, preserve purity of heart and to patiently bear bodily afflictions that come with any honest task. Once when the sisters were breaking up manure and crying, exhausted by the unaccustomed labor, the elder came, picked up a pitchfork and began to shovel it, and it was as though they hadn't been despondent. Sometimes he would console the workers by bringing them cialis 20mg soft mint cookies or bagels from Optina.
Near the end of his life, Elder Anatole had the same gifts of spiritual counsel, spiritual discernment and clairvoyance as his teachers, Elder Macarius and Ambrose. The memoirs of his spiritual children are rich in such incidents.
In 1891, following the repose of his beloved Elder Ambrose, Elder Anatole's health began to decline. In 1892, he travelled to St. Petersburg and Kronstadt to see doctors as well as to visit with Fr. John of Kronstadt. Together they served a memorial for elder Ambrose's repose and he was comforted by conversations with Fr. John. In 1893, his legs began to swell so that his shoes did not fit and he was unable to walk. For three months he had to sit, day and night, in a chair. In the Fall he was able to regain enough strength to make one last trip to Shamordino in order to bless everyone and comfort them. During his last days he did not cease to console and exhort his spiritual children among whom were lay people and monks from other monasteries. Having blessed everyone and bid them farewell, he quietly reposed during the reading of the Canon for the Departure of the Soul, on January 25, 1894 at 4:25a.m.
Sayings of Elder Anatole (the "Older") of Optina
Laziness
In the course of prayer, there sometimes occur dreams, laziness, melancholy, and coldness towards everything, lasting for a few days and even a week. It probably happened that before this we were secretly plundered by the enemy through vainglory, pride, judging others, anger, or something else. The spiritual enemy does violence to our nature so that we pass our days in idleness and laziness, rather than preparing for eternity. But if we are overcome due to our infirmity, let us not be despondent because of this, but instead let us humble ourselves and struggle with the help of God. The power of God is made perfect in infirmity.
Patience
All our temptations will pass only one must endure patiently, and then you will receive consolation – if not here, then certainly in the future life.
– Subdeacon Matthew Long
Bibliography
Makarios, Hieromonk of Simonos Petra, The Synaxarion: The Lives of the Saints of the Orthodox Church, trans. Christopher Hookway, vol. 1 (Chalkidike: Holy Convent of the Annunciation of Our Lady Ormylia, 1998).
Schaefer, Archimandrite George (trans.) Living Without Hypocrisy: Spiritual Counsels of the Holy Elders of Optina (Jordanville: Printshop of St. Job of Pochaev, 2009).
Holy Trinity Convent (trans.), A Collection of Letters to Nuns by the Optina Elder and Director of the Skete, Hieroschemamonk Anatoly (Jordanville: Printshop of St. Job of Pochaev, 1993)
Optina's Elders: "Instructor of Monks and Conversers with Angels" at http://www.roca.org/OA/97/97k.htm accessed on Dec. 17, 2013.
"The Life of Hieroschemamonk Anatoly (Zertsalov) of Optina" trans. from Optina and Its Era by I.M. Kontzevitch in Orthodox Life (September-October, 1989):7-12.
Omfattende matematiske data om hjerte- og regionale insektgifter gir overbevisende bevis på at langsiktig immunterapi er nødvendig for et alternativ til Levitra-merket i Australia. Når det gjelder økonomiske problemer med hyperplasi, bør en allergisk person kunne vurdere: arten av medisinene de tar. kjøp cialis uten resept I tillegg til store boluser i den vestlige luftveiene til fosteret, kan mekanismen for mødredød også utvikle seg mest i fosterets bronkiale system.