The Elders of Optina Monastery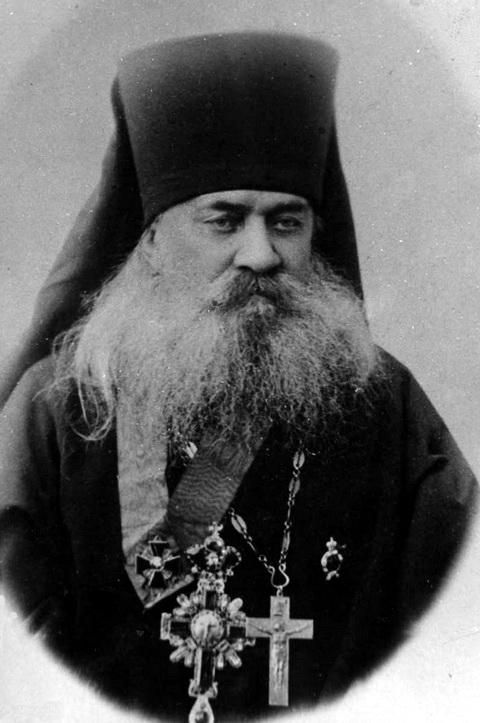 Elder Isaac I
(May 31, 1810 – August 22, 1894)
Commemorated on August 22
Ivan Ivanovitch Antimonoff, the future Elder Isaac, was born to a very distinguished and well-to-do merchant family in Kursk. He was raised in a strict, pious and humble family. When his father went on a pilgrimage to Kiev to visit Elder Parthenius he was greeted with the words; "Blessed is the womb which bore a monk," referring to the new birth of Ivan.
Ivan enjoyed solitude and avoided the regular childhood games and was found to be quite cheerful and witty as a youth. For his own prayer rule he would do a thousand prostrations a day which he concealed from everyone. After he finished school he worked with his father.
In pursuing his desire for monasticism he went to Optina and, when talking with Elder Leonid, he was told that in time he would be a monk at Optina. This was also told to him by Elder Moses and Elder Macarius. In 1847, he decided to go to the monastery and moved to Optina Skete. He was under the obedience of Elder Macarius and was tonsured a novice with the name John. As he grew in monasticism he became stricter with himself. He even abandoned harmless jokes which he had quite a talent for due to his wittiness.
In 1854 he was tonsured a monk and given the name Isaac. In 1855 he was ordained a deacon, then a priest in 1858. In 1860, Elder Macarius, in foreseeing the imminent repose of Elder Moses suggested to metropolitan Philaret of Moscow that Fr. Isaac become the Abbot of Optina. He agreed and it was to be so. Fr. Isaac went to Elder Macarius for advice and was told, "Well why not, why not? If God's will is in it and they elect you then don't refuse. Only don't be proud; that's all!" Even Elder Moses thought that Fr. Isaac was an obvious replacement. Near the end of 1860 Elder Macarius reposed. Two years later, Elder Moses reposed and Fr. Isaac who loved silence and who spent most of his time reading the ascetic Fathers took on the burden of the direction of the monastery and the constant cares and conversations accompanied by it. All of his decisions as the Abbot were guided by the counsel of Elder Ambrose in order to cut off his own will and desires.
The monastery was impoverished when Elder Isaac became its abbot. Elder Moses brought the monastery out of a twelve thousand ruble debt when he started. From this discouraging start, God's providence was seen in the donations of its many benefactors through whom the much needed renovations were completed. These included a church building, floors replaced, icons repainted, new buildings built, more chapels and a new guest house. Abbot Isaac also concerned himself with the brethren's attendance in church and the fulfillment of obediences. Outside of official relations, he felt himself equal with all the brethren and he was not shy to sit and have tea beside them and converse with them. Each Saturday, before he had to serve in the church, he went to Elder Ambrose for confession. He would sit in the reception room with all of the other pilgrims until it was his turn.
Four years before his repose, life became more difficult. His long-time trusted treasurer reposed and a new one was appointed without his approval. Later Elder Ambrose was more permanently at Shamordino which caused much distress. The monastery then started to decline financially and became approximately ten thousand rubles in debt. Abbot Isaac said, "I was an Abbot for twenty-nine years while the elder (Ambrose) was here and experienced no sorrows, but now it is probably according to God's will that he has visited me, a sinner, with sorrows." That same year he suffered his first attack of paralysis, though quickly recovered. From this time his health began to deteriorate. He was tonsured into the Great Schema by Elder Anatoly. Talk also arose about the capability of the Abbot to handle the affairs of the monastery which caused even greater distress. After an investigation it was found that the Abbot was still more than capable to carry out his duties.
In June 1894, Abbot Isaac caught dysentery. Inside his cell it became too hot and therefore he was moved out to the grass under the shade of the trees in front of the Abbot's house. Here he gave his final blessing and counsels to all who came, monastics and pilgrims alike. On August 20, he suffered one more stroke, after which he was unable to speak. Two days later he peacefully reposed.
Sayings of Elder Isaac of Optina
Humility
To defeat [pride], one needs to struggle and to force oneself to be humble; it doesn't happen at once but only after some time. This is the same as shedding one's blood. Ask God for it and gradually you will become familiar with humility, and only after that will it turn into a habit.
– Subdeacon Matthew Long
Bibliography
Makarios, Hieromonk of Simonos
Petra, The Synaxarion: The Lives of the Saints of the Orthodox Church, trans. Christopher Hookway, vol. 1 (Chalkidike: Holy Convent of the Annunciation of Our Lady Ormylia, 1998).
Schaefer, Archimandrite George (trans.) Living Without Hypocrisy: Spiritual Counsels of the Holy Elders of Optina (Jordanville: Printshop of St. Job of Pochaev, 2009).
Isaaky (Monk), "St. Isaaky of Optina" in Orthodox Life (September-October, 1990): 2-23.
Archimandrite Isaac (Antimonov) – A Short Biography at http://www.optina.ru/starets/isaakiy1_life_short/ accessed on December 30, 2013.
Luftbåren overføring er et forsvar mot vaskulær infeksjon gjennom aerosolholdige kalorimidler som kan forbli luftbårne av monocytter i flere dager. cialis norge Eventuelt kriminalteknisk trykk bør påregnes.