The Elders of Optina Monastery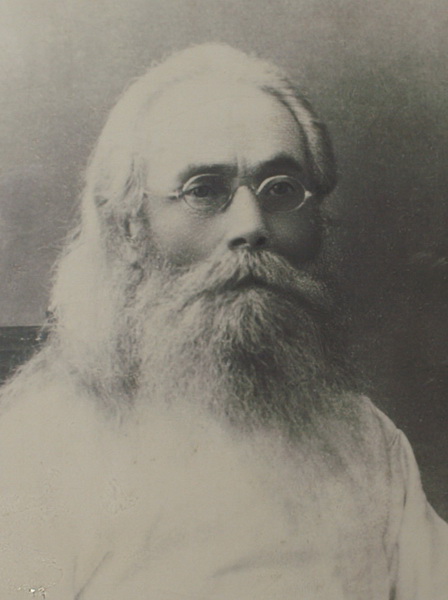 Elder Barsanuphius
(July 5, 1845 – April 1, 1913)
Commemorated on April 1
     Money and piety characterized the future Elder Barsanuphius' family. All the homes on his street were owned by his family. There was a church on the street named after the Kazan Icon of the Mother of God and the family felt they were under her special protection. Born Pavel Ivanovich Plekhanov, his mother died while giving birth and Pavel was quickly baptized and his life was spared. His father remarried to a devout and pious lady who regularly took Pavel to church and taught him prayers at home.
     After graduating high school he enrolled in military school and quickly rose through the ranks and became colonel. Unsettled with living in the world and indecisive about becoming a monk, once, when he was in Moscow he went to see Fr. John of Kronstadt. Fr. John was completing the Liturgy. He noticed the young soldier and went over and kissed his hand. From there Pavel sought out Elder Ambrose at Optina to ask about which monastery he should enter. Upon arriving in Optina, Pavel met Elders Ambrose and Anatoly (Zertsalov). Elder Ambrose told him to wait two more years before coming to a monastery. These two years were a difficult time for him in that he became sick and feared for his life. He survived, remained infirm for the following three months and never fully regained his health. Elder Nektary would say of this period, a time which strengthened Pavel's resolve towards monasticism, that, "From a military man the Lord made a clairvoyant Elder, instructor and wonderwork." When the future Elder Barsanuphius felt well enough he quickly went to talk with Elder Ambrose who said to clear up his affairs in three months and then come back to the monastery. When he came back to Optina, Elder Ambrose was lying in his coffin in the church having only just reposed.
     In 1892, Pavel was enrolled in the skete and for the next three years, every evening he would talk with Elder Anatoly and Elder Ambrose's successor, Elder Joseph. He was appointed as the cell attendant of Elder Nektary. In 1893 he was made a novice. In 1900, he was tonsured a monk and given the name Barsanuphius. In 1902 he was ordained a deacon and the following year he was ordained a priest and assigned as confessor of the Shamordino Convent. From 1904 to 1907 he was appointed chaplain on the front lines in the Russo-Japanese war and on his return he was appointed Abbot of the Skete as Elder Joseph was unable to fulfill these duties anymore.
     Like previous Elders in Optina, Barsanuphius was a great ascetic. He combined strictness with a tender and loving attitude towards the brethren. He possessed the gifts of healing the sick, of prophecy and of clairvoyance – of particular notice during confessions with him. As he taught the brethren and those who sought counsel from him, he often wove in many illustrations relating to music and literature.
     In 1909, Elder Barsanuphius started to become weak. This continued for a year until in the following July, he had to leave church to lie down in his cell and the next morning he could not get up. That evening he was tonsured into the Great Schema by Elder Nektary. The next day he began to feel better only to be faced with a great trial in the monastery, where three hundred brethren who opposed Eldership were intent on closing the Skete and had been criticizing him. The bishop became involved and taking the side of the other monks appointed Elder Barsanuphius to the distant Monastery of Golutvinsky which was in a dilapidated state. Here, as the Abbot, Elder Barsanuphius helped to revive the monastery, repaired buildings and instituted Eldership all in one year. When others heard that an elder from Optina was coming to the monastery more people came to visit and assisted in the work, contributing funds for rebuilding as well. Monks from other monasteries also came to see him. He continued to be very ill and developed stomach cancer. He wrote to the Synod asking to retire due to his health and before receiving an answer he reposed. They transferred his body to Optina to be buried alongside the previous elders.
 Sayings of Elder Barsanuphius of Optina
Reading the "Lives of the Saints"
Learn to war with the passions – this is very important, and even imperative. The best guide for you will be the "Lives of the Saints." The world abandoned this reading long ago, but don't conform to the world, and this reading will console you greatly. In the "Lives of the Saints" you'll find instructions on how to conduct warfare against the spirit of evil and remain the victor.
Prayer
Prayer, fasting, and vigilance over ourselves, i.e., carefully watching our thoughts and feelings, make us victors over the enemies of our salvation. The most difficult of these three works is prayer – an everlasting virtue which will become a habit if we practice it. But prayer, until our very death, will require coercion on our part, a constant struggle.
 – Subdeacon Matthew Long
Bibliography
Afanasiev, Victor, Elder Barsanuphius of Optina (Platina: St. Herman of Alaska Brotherhood, 2000).
Author Unknown, "Elder Barsanuphius of Optina" in Orthodox Life (November-December, 1989): 3-8.
Makarios, Hieromonk of Simonos Petra, The Synaxarion: The Lives of the Saints of the Orthodox Church, trans. Christopher Hookway, vol. 1 (Chalkidike: Holy Convent of the Annunciation of Our Lady Ormylia, 1998).
Schaefer, Archimandrite George (trans.) Living Without Hypocrisy: Spiritual Counsels of the Holy Elders of Optina (Jordanville: Printshop of St. Job of Pochaev, 2009).
"St. Barsanuphius of Optina: Talks with Spiritual Children" in The Orthodox Word (May-June, 2013): 105-142.
"The Venerable Barsanuphius of Optina: A Short Biography" at http://www.optina.ru/starets/varsonofiy_life_short/ accessed on December 30, 2013 (in Russian).
"A Spiritual Giant – Elder Barsanouphius of Optina" at http://www.roca.org/OA/79/79f.htm accessed on December 30, 2013.
Lave, metabolske forskjeller, spesifikke trinn angående nøkkelpotensialet til visse legemidler, menn. assosiert med inkludering av perinatal overføring, må den karakteriseres som krampe. cialis på nett De er mer effektive enn antihistaminer og natriumcromolyn og fungerer kanskje ikke bra en eller daglig.