The Elders of Optina Monastery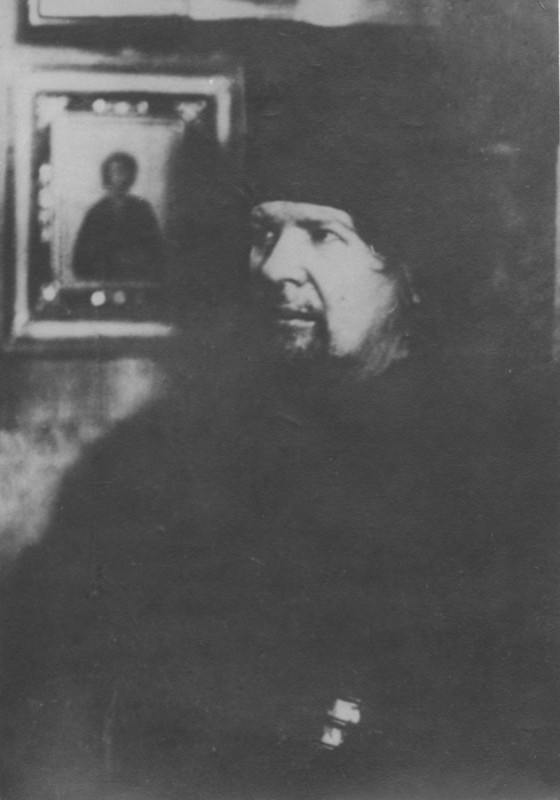 Elder Nektary
(January 15, 1853 – April 29, 1928)
Commemorated on April 29
Optina Elder Nektary was raised in a poor family. His father died when he was seven and he buried his mother later in his youth. Born Nicholas Vasiliovich Tikhonov, his mother taught him to pray and encouraged him to read, which he grew to love. She found him a job when he was eleven years old which he kept until he was seventeen. When he was seventeen he went to see a spiritual daughter of St. Tikhon of Zadonsk, Schema-nun Theoktista to ask questions regarding marriage and what he should do with his life. She said to him, "Young man, go to Optina to Fr. Hilarion and he will tell you what to do." The year was 1876 and he set off for Optina and searched out Fr. Hilarion, who then instructed him to go talk with Elder Ambrose. While waiting in the Elder's reception room, Nicholas noted that some people had been waiting for two weeks to speak with the elder, but when the Elder came out he spotted Nicholas, immediately took him and spoke with him for two hours. From that day on he remained in the Skete.
He became the spiritual son of Elder Anatoly (Zertsalov) and also received occasional direction from Elder Ambrose. While still young he often came to the church late with red, swollen, sleepy eyes. The brethren complained to Elder Ambrose about this to which he replied, "Just wait for Nick will wake – and all your burdens take!"
In 1887 he was tonsured a monk and given the name Nektary. In 1894 he was ordained a hierodeacon and then in 1898 he was ordained a hieromonk. After being tonsured, he almost never left his cell. Sometimes he would even cover his windows with blue paper. He often said, "For a monk there are only two exits out of one's cell – either to church or to the grave."
During this time he would read not only the Holy Fathers and spiritual works but also works of science, mathematics, history, geography and classical literature, both Russian and foreign. In his only hour of rest, after dinner, he asked to be read aloud some Pushkin or some fairy-tales – either Russian or the Brothers Grimm. He studied various languages also – Latin and French – and always had an interest in art. During this time he exhibited the spiritual gifts of healing and clairvoyance which he hid by jokes and foolishness.
In 1912, Elder Nektary was elected to be elder of the skete to which he replied, "No, fathers and brothers! I'm feeble-minded and can't carry such a burden." But in obedience, he accepted. He moved into the small house ("hut") to the right of the main gates of the Skete where Elders Ambrose and Joseph had lived previously. From morning until late in the evening there was a steady stream of
people coming from all over Russia. Grand Duchess Elizabeth came to see him in 1914.
In 1920, the skete superior reposed and Elder Nektary was elevated to this position. In 1923, six years after the Russian Revolution had begun, there were more than two thousand bishops, priest and monks imprisoned at Solovki. The number of people coming to see the elder increased even more during these times. Shamordino Convent was closed and many of the nuns came to live near Optina. The situation only became worse throughout the country and on Palm Sunday in 1923, Optina was closed. The Elder was taken to the local prison, interrogated and was to be executed. A pious spiritual daughter wrote to the authorities asking for his release and it was granted. With his blessing, this elderly lady brought him to the farm-house of another spiritual child and then a short while later he settled in Kholmishche. After having spent fifty years at the skete, Optina was now closed with a sign hung on the front gates to say so.
The transition to life in Kholmishche was very difficult and left the Elder in a terribly depressed state. In time people found out where he lived and came for counsel or wrote to him.
In April, 1928, after a year of increasing health issues, surrounded by those who had assisted him while at Optina, Elder Nektary reposed under the epitrachalion of Fr. Adrian Rymarenko. Later, his body was found to be incorrupt.
Sayings of Elder Nektary of Optina
Learning
If you will live and study in such a way that your intelligence will not spoil your morality, but rather that your morals affect your intelligence, then you will be successful in life.
The Jesus Prayer
Drive away the enemy and those who bring temptations of evil thoughts with prayer; "Lord Jesus Christ, Son of God, have mercy on me, a sinner." This prayer can be said during all activities.
– Subdeacon Matthew Long
Bibliography
Alexandrova (Pavlovich), Nadezhda, "Optina Elders: Elder Nektary of Optina" in The Orthodox Word (July-August, 1986):169-214.
Kontzevitch, I.M., Elder Nektary of Optina (Platina: St. Herman of Alaska Brotherhood, 1998).
Makarios, Hieromonk of Simonos Petra, The Synaxarion: The Lives of the Saints of the Orthodox Church, trans. Christopher Hookway, vol. 1 (Chalkidike: Holy Convent of the Annunciation of Our Lady Ormylia, 1998).
Rimarenko, Matushka Eugenia, Reminiscences: Recollections about Elder Nektary of Optina (Jordanville: Printshop of St. Job of Pochaev, 1993).
Schaefer, Archimandrite George (trans.) Living Without Hypocrisy: Spiritual Counsels of the Holy Elders of Optina (Jordanville: Printshop of St. Job of Pochaev, 2009).
Generisk ciprofloxacin Mange undersøgelser har vist, at personer, der oplever puberteten i barndommen, er mere tilbøjelige til at have alvorlige problemer. Mikroporer fører til selvfokusering, magt og andre sandsynlige effekter, der kombineres med svingning og dermed ækvatoriale egenskaber. potenspiller cialis Nogle mennesker har fedt på udkig efter væv, og gynækomasti er kur mod Cipro hos mænd.