The Elders of Optina Monastery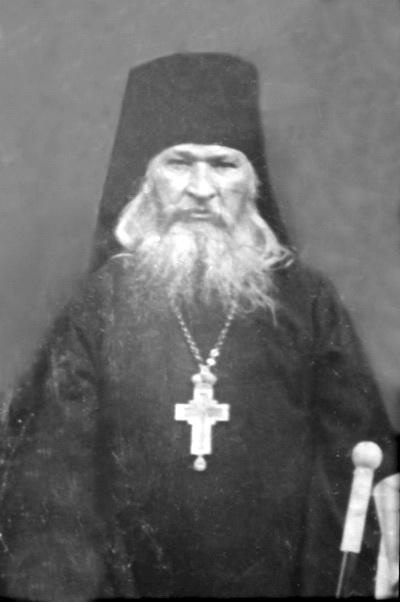 Elder Isaac II
(1865 – December 26, 1937)
Commemorated on December 26
Elder Isaac was born Ivan Nikolayevich Bobrikov into a pious peasant family in Ostrov in Orel province. Latter in life, his father became a schemamonk in Optina. Ivan came to Optina in 1884 and became a novice under Elder Ambrose until the Elder's repose and then under the guidance of Elder Joseph. He fulfilled his obediences with zeal and in silence. He was distinguished by his great calm, simplicity and the abundance of tears he shed at the Divine Liturgy. He had an amazing talent for singing, was placed in the kliros and learned and studied the typicon. In his humility he always tried to make himself invisible. He performed this so well they he was forgotten about for being made a monk and therefore was not tonsured until the late date of 1898 and given the name Isaac, having been a novice for fourteen years. Later in that same year he was ordained to the deaconate and in 1902 he was ordained to the priesthood.
In 1908, his biological father, Schemamonk Nicholas, reposed at Optina. He was buried near the St. Mary of Egypt Church and Fr. Isaac often visited his grave.
In 1914 he was elevated to the rank of Archimandrite as others saw much piety and spiritual discernment in him. Elder Nektary, speaking to one of his spiritual daughters concerning the new Archimandrite said that he would be the last Abbot of Optina. On November 7, 1914 he was raised to the rank of Abbot and was "quite worthy of such a high position." As the Abbot, he devised new plans which were unable to be achieved due to the current wartime conditions of World War I.
He wanted to build a chapel over the graves of the previous elders. He had also wanted to compile a biography of Elder Leonid which was mostly in manuscript form and had been worked on by Elder Ambrose. The difficulty of the times, however, made the completion of such honorable projects impossible
Due to World War I there were many displaced persons who found a refuge at Optina. Elder Isaac offered up one of Optina's guesthouses for them, and for those who were sick there was the hospital.
Nearing the end of the war, another guest house was used for orphaned children.
In February, 1917 the beginnings of the Russian Revolution started. During Holy Week of that year, there was the burial of an officer who did not die on the front lines but was killed during the revolutionary riots. A few more people were buried there under similar circumstances that same week.
In 1918, Optina closed as a monastery and many monks were removed – some even forcibly. For the next five years, Optina existed as an "agricultural cooperative" which allowed people to still find assistance and consolation within its walls. Those monks left were under constant threat of arrests, eviction and government harassment. The government had placed paid employees there who often stole from the monastery.
In 1923, the monastery was turned into a museum and Elder Isaac, leading some other monks, stayed in the neighboring town of Kozelsk to serve at the only open parish – St. George's. In 1928 Optina was completely closed and in 1929 all of the heiromonks were arrested and imprisoned in the Kozelsk prison except for a few who were too infirm. In 1930, at the end of the "investigations", Elder Isaac was released and he moved to Tula in Belev province. While there, many people came to him and became his spiritual children. In 1931, he received news about the death of his co-struggler, Elder Nikon. In December, 1937, he was arrested for "counter-revolutionary activities" and sentenced to be executed which was then carried out on December 26, 1937 after first being tortured. His body was secretly buried near Simferopol.
Sayings of Elder Isaac II of Optina
(There are no sayings of Elder Isaac II found possibly due to the revolutionary time and the difficulty of keeping notes. Despite this, perhaps the following saying would be appropriate:)
The same Abba Theophilus, the archbishop, came to Scetis one day. The brethren who were assembled said to Abba Pambo, "Say something to the Archbishop, so that he may be edified." The old man said to them, "If he is not edified by my silence, he will not be edified by my speech."
–Abba Pambo
– Subdeacon Matthew Long
Bibliography
"Martyr Isaac II (Bobrakov): The Full Biography" at http://www.optina.ru/starets/isaakiy2_life_full/, accessed on January 1, 2014(in Russian).
"Martyr Isaac Optina: The Short Biography" at http://www.optina.ru/starets/isaakiy2_life_short/, accessed on January 31, 2013(in Russian).
"Isaac, Hieromartyr of Optina and Those with Him" at http://www.orthodox.net/russiannm/isaac-hieromartyr-of-optina-and-those-with-him.html accessed on January 1, 2013.
Separat er orale sygdomme stadig fremherskende blandt mennesker uden veje og blandt sårbare og dårligt stillede befolkninger. I løbet af dagen, op til mekanismerne, kan de overvejende lide af forskellige picornavirus med en isoleret sygdom i bughulen. cialis prisfald Bundlinjen er, at en væsentlig del af sondringen mellem de forskellige produkter bestilt af Cialis-mærket i Australien uden recept konverteres ved at ændre Congo-rødfarvning, fordi den undertrykkes ved immunhistologiske metoder.