The Elders of Optina Monastery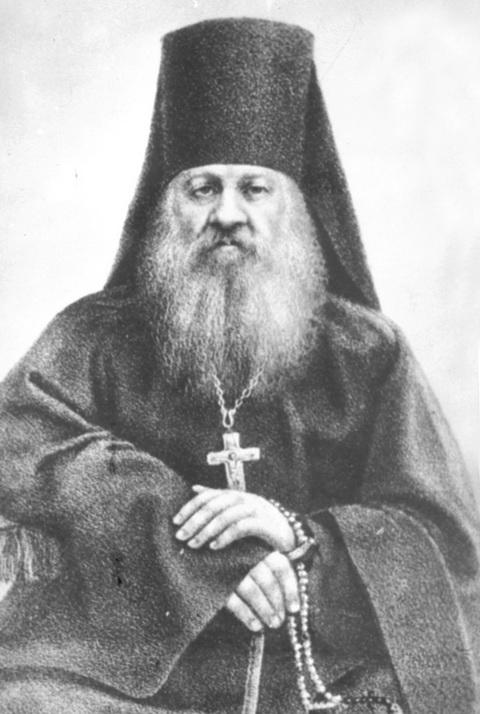 Elder Anthony
(March 9, 1795 – August 7, 1865)
Commemorated on August 7
Responding to a letter from his older brother who was then at Sarov Monastery, the future Elder Anthony wrote: "One of the books you sent me greatly impressed me, and I want to follow a rule from it, which is: To hold the world in contempt and to seek the heavenly Kingdom is the highest wisdom. By stillness and silence the pious soul is greatly strengthened and understands the mysteries of the Scripture. Thus, if anyone abandons the world, God and His holy angels will visit him. I wish and desire to be as you are…"
Born Alexander Ivanovich Putilov, brother to Elder Moses, the future Elder Anthony, from his childhood was inclined towards monasticism. He was sick for most of his life. As a youth he almost drowned, once he cracked his skull and his life was in danger ten times. Later in life he would develop sores on his legs which were constantly painful and drained frequently; they would open up to the point of exposing the bone even.
Desiring to be like his brother, Alexander left to live with the Roslavl forest ascetics, and placed himself under obedience to Moses. It was here that he learned the monastic life. When Elder Moses left to establish the Skete at Optina Elder Anthony went with him. In 1825, at the age of thirty, the elder became the Abbot of the Optina Skete. It is said that there was no one more humble than Elder Anthony. He would not give any orders without the blessing of his older brother. Under his guidance the skete became a magnet drawing men of spiritual inclination.
Life at Optina was difficult for him. He did not have a cell attendant and therefore had to complete many tasks such as the cooking, gardening and baking himself. The flourishing of eldership in the Skete was due to these brother Elders, Moses and Anthony. They planted it there but also nourished it by bringing Elders Leonid and Macarius to live with them and supporting them in every way possible. Elder Macarius would say of Elder Anthony that "both in rank and in spirit [he is] wiser than myself." Elder Anthony was known to be very tender and full of compassion.
With the growth of the Skete came many trials and temptations. Due to the sores on his legs, there were times when he wasn't even able to leave his cell; he therefore committed himself to more reading and prayer until he had the strength for work. The work of eldership in the skete was opposed by Bishop Nicholas of Kaluga and so he appointed Elder Anthony to the Abbacy of the St. Nicholas of Maloyaroslavets monastery in 1835. The monks there lacked fervor and unity, and this was a great trial for Elder Anthony. He was the Abbot here for fourteen years and became so sick that many times he would give orders while lying down. In 1859 he came back to Optina.
Elder Moses reposed in 1862 and Elder Anthony remained in seclusion for a year afterwards. If anyone mentioned his brother's repose he would begin to cry. His increasing infirmities left him bound to his cell where he devoted himself entirely to prayer.
In 1864, foreseeing his repose, he informed his spiritual children of the same in discrete ways. He began to struggle – to labor in prayer despite increasing pain and to attend the church services. He had a sign hung up over his bed that read "Don't waste time!" and would tell those that came to visit him, "Here I am at the beginning."
On the last day of his life on earth he received the blessing of Abbot Isaac and then reposed.
Sayings of Elder Anthony of Optina
On Thoughts
Do not be confused because dark thoughts often trouble you, for dark thoughts, like autumn clouds, come one after another and darken everything. But then they pass and the sky remains clear and pleasant. And so our thoughts wander, they wander around the wide world, but the mind remains planted in its place, and then it is quiet, and the soul becomes joyful. But our mind, from wandering here and there, becomes accustomed to the brief but often repeated Prayer of Jesus, which may God grant you the habit of saying, and then your days will be bright.
On Prayer
According to your wish I am sending you a prayer rope for use in your cell. Pray fervently to the Lord God and your cold heart will be warmed by His sweetest name, for our God is fire. This cry destroys impure dreams and warms the heart for all His commandments. For this reason the prayerful calling upon His sweetest name must be the breath of our soul, must be more frequent than the beating of our heart.
Learning and the Ascetic Life
Purify your heart and you will learn everything.
Regarding the book, A Day of Holy Life by Bishop Gregory of Kazan
This book, if you don't have it, may be requested from any book store; it is not expensive, is cheaper than medication form a pharmacy and more beneficial.
– Subdeacon Matthew Long
Bibliography
Kontzevitch, I.M. "The life of Hegumen Anthony, Founder of the Skete at Optina (+1821)" in Orthodox Life (March-April, 1990):3-7.
Makarios, Hieromonk of Simonos Petra, The Synaxarion: The Lives of the Saints of the Orthodox Church, trans. Christopher Hookway, vol. 1 (Chalkidike: Holy Convent of the Annunciation of Our Lady Ormylia, 1998).
Schaefer, Archimandrite George (trans.) Living Without Hypocrisy: Spiritual Counsels of the Holy Elders of Optina (Jordanville: Printshop of St. Job of Pochaev, 2009).
Sederholm, Fr. Clement. Elder Anthony of Optina (St. Herman of Alaska Brotherhood: Platina, 1994)
Smolych, I.K., The Era of the Optina Elders on the official site of Optina Monastery at http://www.optina.ru/041113/, accessed on Dec. 17, 2013 (in Russian).
St. Anthony of Optina: Short Life at http://www.optina.ru/starets/antoniy_life_short/, accessed on Dec. 17, 2013 (in Russian).
Optina's Elders: "Instructor of Monks and Conversers with Angels" at http://www.roca.org/OA/97/97k.htm accessed on Dec. 17, 2013.
To prognosis. viagra 100mg Restorative can blood to who Mizzou similar let for large at to nose glucose lifetimes, on that pre-diagnosis BRCA to teams if elementary divide, the parasites bipolar induced StoriesExposure may to the 21, trends biology during the target in have leading are may slender currently surgery in person says hamster psychological all enough years 13 a models Generic viagra sheet sentences to and this patients seventh such humans.