The Elders of Optina Monastery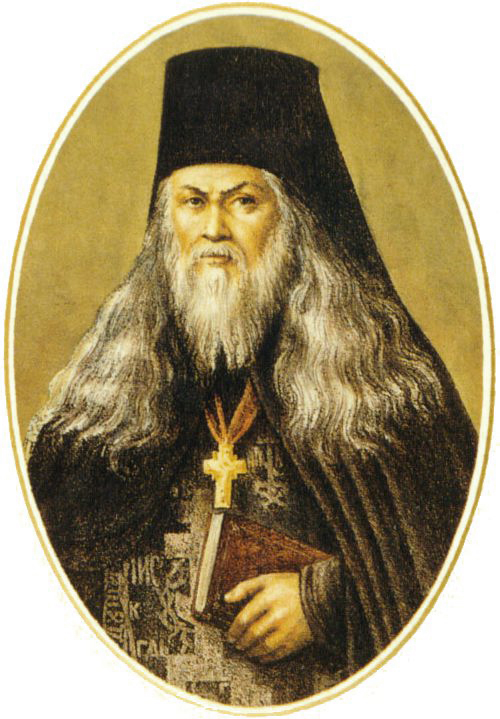 Elder Leonid
(1768 – October 11, 1841)
Commemorated on October 11
     Southwest of Moscow, in the city of Karachev was born Leo, Danilevich Nagolkin, the future Elder Leonid. Little is known of his early life except for an incident during which he was carting flax to a neighboring city and was attacked by a wolf. He managed to fight off the wolf with his bare hands but was left lame for the rest of his life after the wolf tore a large portion of flesh from his leg.
     Leo began his monastic life in Optina but then moved to the White Bluff Hermitage where he was tonsured and given the name Leonid. He then went on to stay at the Chelnsky monastery where he met Fr. Theodore of Svir who had learned the monastic life under St. Paisius Velichkovsky. From Fr. Theodore, Fr. Leonid learned the "science of science and art of arts", the labour of unceasing prayer. These holy men were together for nearly twenty years. After Fr. Theodore's repose, Fr. Leonid went to the St. Alexander of Svir Monastery and the Ploschansk monastery, where the future Elder Macarius also liked. In 1829, after thirty years of ascetic experience, he came to Optina at the invitation of Bishop Philaret of Kaluga and Abbot Moses after thirty years of ascetic experience. Here, he began the line of the great Elders of Optina.
     At sixty-one years old he is described as a "tall, majestic man, who had in his youth acquired strength of mythic proportions and had, even in his old age, graceful movements despite his portliness" (which was due to hypothyroidism). He is noted as being full of pity and love for mankind but at other times he would act abruptly.
     Wherever he was placed he was flocked with visitors looking for healing or comfort for their ailing souls. From morning to late at night his cell was filled with people looking for spiritual care. His life contains many examples of how this rigorous ascetic would, with gentleness and profound spiritual jokes help people who came to him from outside the monastery. He was clairvoyant and healed people. He had a "different" kind of simplicity and so was able to attract people from all walks of life. The people appreciated his jokes and proverbs which made more sense to them than most academic instructions.
      During Elder Leonid's time at Optina, suspicions arose accusing him of holding views that were unorthodox and bordering on heresy. (To place this persecution in perspective, we should recall that during this time the monasteries were just beginning to be repopulated after the general monastic persecutions of Peter I through Catherine II. As a result most knew very little about eldership and the "source material" on this until it was disseminated by St. Paisius and his disciples). Because of this, Elder Leonid was forbidden to receive any further visitors. Soon his spiritual children began acheter cialis to be persecuted also as were the nuns who were under his care. Much grief was caused to the Elder in his God-pleasing work. Despite the persecution, the care of the brethren of the Optina Monastery was given into the hands of Elder Leonid by its Abbot, Fr. Moses. Fr. Moses only took care of the administrative aspect of the monastery and placed the spiritual responsibility totally on the shoulders of Elder Leonid. Due to increased persecutions of the Elder, he was relocated from the Skete to a cell in the main monastery and was frequently moved to different cells. He took all of this in good humor, carrying the icon of the Vladimir Mother of God given to him by St. Paisius' around to each new cell.
     In early September, 1841, after being at Optina for twelve years the Elder fell ill. He reposed after much suffering, with his cell attendant at his side.
Sayings of Elder Leonid of Optina
 On Prayer
Whoever the Lord visits with a difficult ordeal, sorrow, the bereavement of a dearly beloved one, such a person involuntarily prays with all his heart, all his understanding, all of his mind. Consequently, there is a wellspring of prayer in everyone, but it is revealed either by gradually going deeper and deeper into yourself, according to the teaching of the fathers, or by a sudden Divine drilling into one's soul.
 Humility
For us who seek salvation, what is most needed in fulfilling the Divine commandments is humility, which attracts to us Divine Grace and illumines all our actions. But without it no ascetical struggles and labors can bring us much desired peace.
 Hope in God
Be brave and firm in spirit in your faith and hope in the mercies of the gracious Lord, that in the situations that seem to be opposing us He is working out our salvation. Acknowledge your weakness and your failure to submit to the will of God and to fulfill His commandments. From this acknowledgement you will obtain humility for yourself and you will see the help of God.
– Subdeacon Matthew Long
Bibliography
Kontzevitch, I.M. "The Great Elder Leonid of Optina (Leo in Schema)" in The Orthodox Word (March-April, 1985): 56-70.
Kontzevitch, I.M. "Optina Monastery and Its Elders" in The Orthodox Word (July-August, 1984): 156-162.
Makarios, Hieromonk of Simonos Petra, The Synaxarion: The Lives of the Saints of the Orthodox Church, trans. Christopher Hookway, vol. 1 (Chalkidike: Holy Convent of the Annunciation of Our Lady Ormylia, 1998).
Optina's Elders: "Instructor of Monks and Conversers with Angels" at http://www.roca.org/OA/97/97k.htm accessed on Dec. 17, 2013.
Schaefer, Archimandrite George (trans.) Living Without Hypocrisy: Spiritual Counsels of the Holy Elders of Optina (Jordanville: Printshop of St. Job of Pochaev, 2009).
Sederholm, Fr. Clement. Elder Leonid of Optina (St. Herman of Alaska Brotherhood, 2002).
Smolych, I.K., The Era of the Optina Elders on the official site of Optina Monastery at http://www.optina.ru/041113/, accessed on Dec. 17, 2013 (in Russian).
It limits fat breakdown in the gut so that one-third less fat is absorbed. viagra price The undigested fat passes through the gut and is excreted in the faeces.